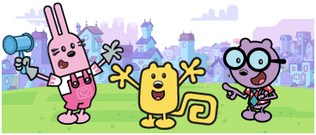 "Wow! Wow! Wubbzy!" is a whimsical, animated, preschool comedy starring Wubbzy, an innocent, cheerful little guy who loves to play, play, play! Whether it's riding his tooter-scooter, baking a chocolate doodleberry cake or playing a game of kickity-kick ball, Wubbzy just wants to have fun. With his four best pals Widget, Walden, Daizy and Jack, the three always work together to resolve everyday problems.
Ad blocker interference detected!
Wikia is a free-to-use site that makes money from advertising. We have a modified experience for viewers using ad blockers

Wikia is not accessible if you've made further modifications. Remove the custom ad blocker rule(s) and the page will load as expected.